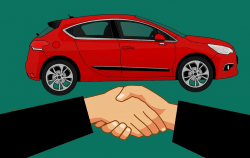 Should I sell or trade in my vehicle? Purchasing a new vehicle can be exciting and thrilling, but if you have an old vehicle, it may make you wonder if you should trade in your old vehicle or sell it privately. When you have decided it's time for you to purchase a new vehicle, you'll need to figure out what you will do with your old one. You need to think about whether it's best for you to sell your vehicle personally or you should trade it in. You might have heard from different people that vehicle trade-ins are more convenient or the other way around that selling your vehicle privately is a better option for you. Well, the decision to sell your vehicle for cash or trade it in can depend on a few factors and you need to make the decision that's best for your circumstances. Here at Toronto Auto Loans, we'll explain everything you need to know about selling your vehicle privately versus trading in your vehicle to help you make an informed decision.
Here's what you need to know and how to determine which path is the best for you.
Find Out How Much Your Car Is Worth
There are a lot of things that go into your vehicle's value. How old it is, how many miles it has, its condition, extra features, and other factors can all help you set a reasonable price. It's important to note that each vehicle has two different values, one as a trade-in and one as a private sale. Basically, in every case, your vehicle is worth more in a private sale than as a trade-in. However, the gap between the two values can vary, and depending on your vehicle you may not lose much by trading it in. There are several places you can go to check your vehicle's market value, you can visit a website like Canadian Black Book or Kelley Blue Book to find out how much your vehicle is worth.
Should I Sell My Vehicle Privately?
Selling your vehicle privately means advertising and selling your vehicle yourself. There are numerous ways to do this, from simply putting a sign in your vehicle's window to advertising on a site such as Kijiji, Autotrader, or Facebook Marketplace.
Here are some situations where it makes sense to sell your vehicle privately instead of trading it in.
Selling your vehicle privately will usually earn you a significantly higher price for your vehicle.
You are in control of setting the price.
You may be able to get a discount on buying a new vehicle as a cash buyer.
However, there are also some reasons to think twice about selling your vehicle privately.
You are responsible for advertising your vehicle which means you'll have to invest time, effort, and possibly money to market your vehicle.
You have to deal with strangers coming to view and test drive your vehicle. This includes potential buyers who make an appointment but didn't show up.
It can take a while to find the right buyer who is willing to pay the price you want for your vehicle.
You need to get your vehicle detailed and serviced.
You'll handle all the paperwork.
Should I Trade In My Vehicle?
Trading in your old vehicle is more straightforward and far less time-consuming. This is often seen as the most convenient option as there's no advertising to be done. Yes, you'll generally get more money in a private sale, but there are distinct advantages to trading your vehicle ins.
Here are some of the benefits of trading in your vehicle.
Trading in your vehicle is one of the easiest ways of getting rid of your old vehicle. You simply hand it over to the dealership and receive a discount on your new vehicle.
It saves time as you don't need to deal with advertising, viewings, or test drives.
You can save on detailing and reconditioning costs. Trading in your vehicle to purchase a newer model can avoid you paying reconditioning costs upfront, allowing you to make a larger down payment.
The dealership will handle all the paperwork for you.
Tax savings advantage of trading in, these savings can help close the gap between how much you can get for trading the vehicle versus selling it privately.
No need to pay off your existing loan in full. You can trade-in your vehicle even if there are still outstanding payments left on it. The dealership can pay it off for you.
When you trade in your vehicle you don't need to worry about your safety.
If you're planning to upgrade to a quality pre-owned vehicle and have an old vehicle that you would like to trade-in or sell in the Toronto area, then Toronto Auto Loans can help you out. We can offer you the best deal that no other companies can offer. Click here to get started. We'll help you eliminate the headaches of selling your vehicle with a fully online process. We'll make it easier for you to trade in your vehicle as well. Browse our wide selection of quality used vehicles and find your perfect ride. If ever you haven't found the vehicle you want in our inventory, no worries we can still help you get your desired vehicle as we are networked with various wholesalers, dealers, and even private sellers. Therefore we can get a hold of any year of vehicle, any make and any model. Our application process is just quick and easy wherein you can complete it in just a few minutes. Whether you decide to sell or trade-in your vehicle to us, you can skip all the paperwork of selling your vehicle as we'll be the one to handle it.
If you need more information and still can't decide whether to sell or trade in your vehicle. Reach out to us anytime here at 1-855-227-1669 and one of our dedicated finance staff will be in touch with you. Working with folks like you is one of our expertise, thus you can be certain that you're in the right place.