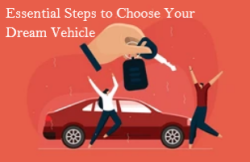 Essential Steps to Choose Your Dream Vehicle
Finding the ideal automobile can be a challenging endeavor. Specifically with numerous options on the market these days. From compact sedans to spacious SUVs. It's crucial to narrow down your choices and make an informed decision. This ultimate guide will unveil expert step-by-step advice to help you find the perfect vehicle that aligns with your needs, priorities, and budget.
Essential Steps to Choose Your Dream Vehicle
Step 1: Assessing Your Needs and Priorities
Assessing your needs and priorities before starting your vehicle search is crucial. Consider the number of passengers you typically carry, the cargo space required, and your daily commute. Are you looking for a fuel-efficient vehicle or one with advanced safety features? Figuring out your requirements lets you narrow your alternatives and find an automobile suitable for your lifestyle.
Step 2: Determining Your Budget and Financing Options
Once you have a clear idea of your needs, it's time to determine your budget and explore financing options. Consider your monthly expenses, including insurance, fuel, and maintenance costs. Assess your credit score and research potential lenders for the best interest rates and loan terms. Setting a realistic budget and researching financing options will help you keep the purchase of your dream vehicle within your budget.
Step 3: Researching Vehicle Types and Features
With your budget in mind, it's essential to research various vehicle types and features. Whether you prefer a sleek sedan, a versatile SUV, or an eco-friendly hybrid, each vehicle type offers unique advantages. Explore the features and technologies available in different models. From advanced safety systems to entertainment options, understanding the available features will help you find a vehicle that enhances your driving experience.
Step 4: Evaluating Reliability and Safety Ratings
Reliability and safety should be top priorities when choosing a vehicle. Research reliability ratings from trusted sources and read reviews from current owners. Look for automobiles with high safety ratings and advanced safety features, such as collision mitigation systems and blind-spot monitoring. By evaluating reliability and safety ratings, you can guarantee your perfect vehicle meets your needs and keeps you and your loved ones safe on the road.
Step 5: Test Driving and Comparing Multiple Vehicles
Once you have narrowed your choices, it's time to hit the dealership and test drive multiple vehicles. Take note of the vehicle's comfort, handling, and performance. Pay attention to the visibility, ease of maneuverability, and overall driving experience. By test driving and comparing multiple vehicles, you can get a firsthand feel for each option and make an informed decision based on your preferences.
Step 6: Negotiating the Best Price and Discounts
When you have found your perfect vehicle, it's time to negotiate the best price and take advantage of any available discounts. Research the market value of the car. And have the courage to strike a deal with the dealer. Consider leveraging your research on competitor prices and any ongoing promotions. Be confident and assertive. And don't hesitate to leave if the offer falls short of what you expect. By negotiating the best price and discounts, you can ensure that you're getting the most value for your money.
Make an Informed Decision and Enjoy Your Perfect Vehicle
In conclusion, finding the perfect vehicle requires careful consideration and research. By assessing your needs, determining your budget, researching vehicle types and features, evaluating reliability and safety ratings, test driving and comparing multiple vehicles, and negotiating the best price. You can make an informed decision. Remember, your perfect vehicle is out there, waiting to enhance your daily commutes and adventures. Follow this ultimate guide, and take each step with confidence. Soon you'll be enjoying the thrill of driving your perfect vehicle.
Need Help in Vehicle Financing?
Do you need financing for a car, truck, van, SUV, or other vehicle? Toronto Auto Loans can help. We can get your financing set up and approved despite your credit situation. Whether you need funding for a new or used automobile, we can help. We specialize in this field, so you have nothing to worry about. Get pre-approved here today. Our team of finance specialists will get you the best finance options convenient to your needs and situations.
Check our Car Loan Payment Calculator here.