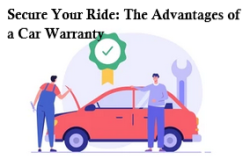 Secure Your Ride: The Advantages of a Car Warranty
Your car is one of the most significant investments you'll make in your lifetime, and it's essential to ensure it's always in good condition. Unfortunately, cars are bound to experience wear and tear over time, leading to costly repairs and maintenance expenses. That's where car warranties come in handy. With a car warranty, you can secure your ride, protect your wallet, and enjoy peace of mind while driving.
Secure Your Ride: The Advantages of a Car Warranty
Safeguard your Vehicle, Wallet, and Peace of Mind.
A car warranty offers several benefits, including protection for your vehicle, wallet, and peace of mind. When you have it, you're assured your car will be covered in the event of mechanical failures, saving you thousands of dollars in repair costs. Additionally, warranties provide peace of mind, knowing you won't have to worry about unexpected car repairs and expenses.
Why a Car Warranty is a Smart Investment for Your Vehicle
Investing in a car warranty is a smart decision for your vehicle. It not only ensures you're protected from unforeseen expenses, but it also adds value to your car. If you decide to sell your vehicle, having a car warranty can increase its resale value, as potential buyers know that the vehicle is in good condition and that any needed fixes will be covered under the warranty.
Avoid Costly Repairs with a Comprehensive Warranty Plan
A comprehensive car warranty plan covers all major repairs, including engine, transmission, and electrical components. With comprehensive coverage, you can avoid costly repairs that could set you back financially. Additionally, it often includes roadside assistance, towing, and rental car coverage, ensuring you're never stranded on the road.
A Car Warranty Can Cover More Than Just Mechanical Failures
Car warranties don't just cover mechanical failures; they can also include coverage for wear and tear items such as brakes, batteries, and tires. It also covers damages resulting from accidents, fire, theft, and natural disasters, giving you total protection for your vehicle.
Don't Let Unexpected Car Repair Bills Catch You Off Guard
Car repairs can be costly and often comes at the most inopportune times. With a car warranty, you won't have to worry about unexpected car repair bills, as your warranty provider will take care of all expenses. This means you can plan your budget and avoid any financial surprises.
The Benefits of a Car Warranty Extend Beyond the Road
Car warranties offer benefits that extend beyond the road. Some warranty providers have perks, such as discounts on car rentals, hotel stays, and even theme parks. Additionally, some providers offer travel interruption coverage, ensuring you're covered if you experience car trouble while on a road trip.
Maximize Your Car's Resale Value with a Warranty
Having a car warranty can increase your car's resale value. It's a well-known fact that potential buyers are willing to pay for a used car with a warranty rather than one without. This means you can recoup some of your warranty costs by selling your car at a higher price.
Car Warranty vs. Manufacturer's Warranty: What's the Difference?
A manufacturer's warranty typically lasts for a limited period and only covers defects in materials and craftsmanship. In contrast, a car warranty can cover repairs and maintenance for an extended period. Additionally, car warranties are transferable, which means they can be transferred to the new owner if you decide to sell your car.
Choosing the Right Car Warranty for Your Needs and Budget
When choosing a car warranty, it's essential to consider your needs and budget. Some providers offer basic coverage, while others provide comprehensive coverage. Furthermore, some warranties include deductibles, whereas others do not. It's essential to read the fine print and understand what your warranty covers and doesn't.
Top Car Warranty Providers: Who Offers the Best Coverage?
There are many car warranty providers in the market. And picking the right one might be difficult. It's advisable to research and compare different providers and their coverage levels. Some top car warranty providers include Endurance, CarShield, and CarChex.
Secure Your Ride Today: Get a Car Warranty and Drive with Confidence
In conclusion, having a car warranty is an excellent investment for your vehicle, wallet, and peace of mind. With a warranty, you can avoid unexpected car repairs, save money, and enjoy total protection for your vehicle. Take steps before it's too late. Secure your ride today and drive confidently.
Secure a Vehicle with Toronto Auto Loans
Are you thinking of financing a new or used vehicle? Toronto Auto Loans can help. We can get you approved despite your credit rating. Our team of finance specialists will evaluate your situation carefully and get you a car loan plan within your means. We can secure any vehicle. Thus you have nothing to worry about. Click here to apply. We'll be delighted to serve you.
Check out Our Car Loan Payment Calculator here.